Projects, training
and our funders
A safe place for all
Our Resource Centre is open to
anyone who needs a safe place.
Whether avoiding drug or alcohol
misuse or keeping safe from
domestic abuse, whatever the
reason for dropping in, we will
give a warm welcome and 
non-
judgemental support.
Personal development
Our members can access free
CHIME workshops.  The CHIME
framework for personal recovery –
Connectedness, Hope and
optimism, Identity, Meaning and
Empowerment – are identified as
the five elements we all need to
maintain better wellbeing.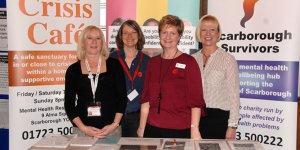 Partnership working
Scarborough Survivors works with other charities, agencies and local businesses to ensure that our services work in harmony and reach people of all ages and backgrounds in our community.
We hold regular surgeries at Scarborugh and Whitby Job Centre to support clients.  Other partners include North Yorkshire Horizons, The Summit, Scarborough DAG, GP surgeries, Cavca, Coventry University and the Rainbow Centre.  Plus many more organisations than can be listed here.  We welcome every opportunity to work with others to improve the mental wellbeing of our community.
New projects under development
We have two project currently under development:
1. Dedicated youth space for 16 – 25 year olds.  In recognition of the particualar needs of our young people, we are refurbishing an attic space to be used as a safe space for those at risk of poor mental health – a place to share their experiences and gain strength from mutual suport.
2. Positive buddy scheme – this recognises the need to provide a broad range of one-to-one support to help our members better manage their mental health.  When funding is in place, we will recruit and train volunteers to enable underlying issues like debt, housing or drug and alcohol missuse to be tackled proactively, helping to build confidence, resilience and self-esteem.
3. Extend the reach of our services in the Borough of Scarborough, especially in to rural areas where people may feel more isolated and less able to access local support networks.  Developing our anti-stigma work is one way we can reach out to rural communities.
Mental Health
First Aid Training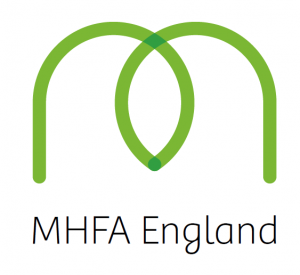 Scarborough Survivors is able to offer individuals or organisations accredited MHFA training.  The training is deliverd over two full or four half days and provides learners with a good understanding of mental health conditions.  It helps them to gain the confidence and skills to support someone who is mentally unwell safely and sensitively.
All learners receive a comprehensive manual as an ongoing reference.  This course is especially useful to anyone who is responsible for staff or volunteers in a workplace but it is also of value to those wishing to assist family and friends with poor mental health.
To receive a course outline or any further information ring 01723 500222 or send a message.

We hold a contract with NYCC Health & Adult Services as the main third sector provider of mental health support and representation in Scarborough Borough.
This enables us to open our Mental Health Resource Centre for drop-in 7 days a week, providing a safe and supportive environment for our members and information for anyone wishing to assist family, friends or clients who are experiencing poor mental health.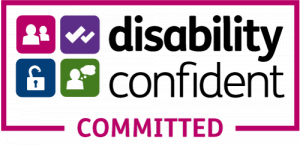 We are committed to being a disability confident employer and as such we will:
1. Ensure our recruitment process is inclusive and accessible
2. Communicate and promote vacancies
3. Offer an interview to disabled people
4. Anticipate and provide reasonable adjustments as required
5. Support any existing employee who acquires a disability or long term health condition, enabling them to stay in work
In 2017 our charity was delighted to be awarded the Queen's Award for Voluntary Service in recognition of our long-standing work to support better mental health in our community.  This award is a high accolade for which we are rightly proud.  It is thanks to the commitment of our amazing volunteers that we were succesful in gaining this level of recognition.
In 2019 we were awarded the Duke of York's Community Initiative Award which again recognises our work in the voluntary sector.
These awards serve as a quality mark and are helpful when applying for grant funding.
Grant funders
We are most grateful to all our grant funders.  With their support we are able to develop projects for the benefit of our members and provide services and resources that would normally lie outside the scope of our core funding.
Our current or most recent funders are:
NHS England – Clinical Commissioning Group (CCG)
Tudor Trust
Scarborough Rotary
Police and Crime Commission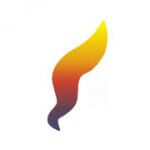 Counselling service
We are able to offer a free one-to-one
counselling service that is solution-
focussed.  After an initial assessment,
a minimum of 6 and a maximum of
24 sessions is offered.
There is a high
level of demand for
this service, with 
waiting times
exceeding 6 months.
We are still working on this website!
We are nearly there, but there are still a few elements to add to this website, including links to our leaflets, posters, volunteer packs etc.  This will be available in due course.  In the mean time, apologies for any inconvenience.  Don't forget you can use the Contact Us form to request any information that you would like.